Equipment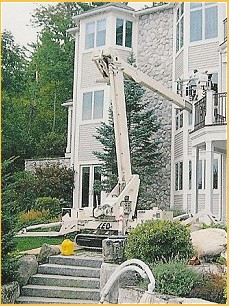 Forrest Noe Painting is both experienced and uniquely equipped to handle all types of painting work. Our experience and equipment enable us to complete your job on time and with stunning results. We have been providing professional painting services to the Lakes Region area of New Hampshire for over 30 years.
Our Teupen Leo 23 GT Spiderlift enables us to work in a way few others can. We can complete painting and repair work easily, in and around obsticles including landscaping and stairs. We can reach intricate corners, curves and peaks easily. Our machine can also fit through small, narrow areas enabling us to utilize it for many indoor jobs. You'll likely want to hire us just to see this equipment in action!
Of course, if your job does not require our Spiderlift, we also utilize traditional equipment to complete the job with the same level of quality and at a price you will find reasonable. In any case, we take special care to preserve and protect your property while delivering the quality work you expect.